Friday, November 11, 2011
I promise I will be back!
Hi everyone! Sorry for the lack of posts. I was on vacation, and then have been sick :( I am hoping to be back in the swing of normal activities in the next few days! I do have a special post for Sunday, so make sure the stop by and check that out!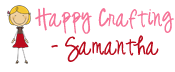 Posted by

Samantha
at 11:26 AM